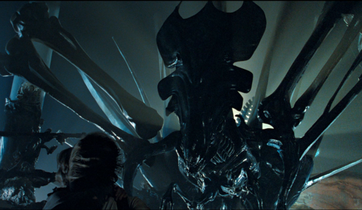 The Alien Queen is the Mother of Every Drone and Warrior in her Hive.
Features
Edit
The Alien Queen is 20 Times Taller than the Regular Xenomorphs. Have a Very Large Crest and Large 3 spines on each Side.
The Alien Queen is a Large and Intellegent Xenomorph who is in Charge of the Whole hive. Her Main Job is to Lay Eggs. The Queen's Drones put the Eggs near Coccounded Hosts. She has a Very Long ovirpositor. When her Ovirpositor is Broken or Ruined she Grows a New one for 3 Hours. When the Queen Dies she Lays an Egg that Releases a Queen Face-Hugger who Carrys 2 Queen Embryos and Dies after it lays to 2 Queen Embryos inside a Living Host
Known Queens
Edit
Ad blocker interference detected!
Wikia is a free-to-use site that makes money from advertising. We have a modified experience for viewers using ad blockers

Wikia is not accessible if you've made further modifications. Remove the custom ad blocker rule(s) and the page will load as expected.